Legal Malpractice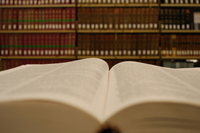 The stress, difficulty and complications that result from an attorney's malpractice or ethical violations leave many people with a lack of trust in attorneys and the legal system, in general. Legal malpractice cases may involve a simple mistake by an attorney that causes the client to suffer economic damages. Many legal malpractice cases are very difficult, however, and can involve an attorney's breach of their professional responsibilities, fiduciary and financial duties, or ethical obligations, owed to the client. These violations can be very serious, as well as emotional, for all parties involved, separate and apart from any mistakes an attorney may have made in an underlying legal representation. While the California State Bar has the power to discipline licensed California attorneys for ethical violations, at the Brod Law Firm, we have the power and ability to pursue civil damages on behalf of our clients who have been wronged by attorneys who have committed mistakes, as well as ethical violations.
Gregory Brod has successfully helped clients in a wide variety of legal malpractice matters, including malpractice in complex business litigation cases, malpractice in divorce cases, malpractice in real estate transactions and real estate litigation, malpractice in immigration matters, and malpractice in personal injury cases. Proving that a client would have obtained a more favorable result had the previous attorney acted within the applicable standard of care involves complex issues. In addition, it is often difficult for the client to engage in sometime what is an additional lawsuit, after recently having a poor experience with the legal process. Mr. Brod, a second-generation attorney, takes tremendous pride in the legal profession, and with his skills and approach to legal malpractice cases, he serves his clients' interests in the most effective way possible.
If you believe you have a legal malpractice claim against your former lawyer, please contact Brod Law Firm for a free case evaluation at (800) 427-7020.